[In text, not paratext]. [Amended 01/01/09 21:30] There are times when each new entry gets harder to write. It has been three years since any kind of end-of-year eulogy, and this year, in a sad sense, presents the opportunity better than any other to date. Indeed, whether 'eulogy' is the right word, I am not sure, but there are many to thank, and still much to be thankful for that takes this closer to eulogy than elegy. Writing outside the neutral - about highly positive or negative events - still demands a perfectly poised tone to feel right within the webspacial spheres in which it disseminates. Given the work I do, I struggle to even think in such libertine, random patterns any more, even though spontaneity always seemed once upon a time to bring out the most creative form of thought. To collect together all the positives would be a hideous misrepresentation of the year. To collect all the negatives, on the other hand (many of which have already been listed in this journal in some form), would not only defeat the ambiance I am trying to uphold, but also negate the great fortune I have today of seeing a positive future ahead and not a bitterly sad one - something I owe more to others than anything I could offer myself. As ever, I offer my gracious thanks for indulging anything I have to say in this space.

Without doubt, I am ending the year in a state of repair (or perhaps disrepair). I am holding more comfortably one main meal per day now, and I carry more energy during the day. As soon as I hit the pillow, however, I have trouble moving myself from it. A far cry from I, when, more often than not, I defied my system with caffeine and adrenalin. It is years of dedication and neglect, albeit in the best sense of those terms, that has helped to inflict the predicaments of this year. Months of graft over the Autumn term with some strong discipline throughout December has offered me occasional spells of respite over the Christmas period, putting me in much lighter spirits. Having fallen with the economy, the hope for 2009, without doubt, is to come back stronger than ever.

I wrote recently about the element of the uncanny; coincidental connections with events and their recordings 3 years ago. I might have understood something similar at the turn of this year. The pattern over the last few years has been to stretch a series of 24 over the whole year. Ironically, for such an unstable type of drama, '24' has been my other-world, the one stability of losing myself in something since Knightmare finished. I avoid all critiques of the show wherever possible, which often look to swipe away at it, despite the self-acclaimed nature of the genre. I knew from November last year that, due to the writers' strike, the show would not appear this year, and despite the excellent spin-off 'Redemption' shown last month, I have missed it terribly. Towards the end of the last series aired, there were some remarkable scenes, which have struck very, very close to home. Jack learns that his suspected-dead partner, Audrey, is alive, captured and tortured by Chinese agents similar to the experience he himself suffered over the period before that season started. The Chinese are using her as a bargaining chip for a piece of Russian hardware that compromises their defence capabilities. Jack seeks a presidential favour to make such an exchange happen, preparing to sacrifice himself once Audrey is safe. The exchange happens, but before Jack can detonate the building to prevent the technology from falling into Chinese hands, his fellow agents infiltrate the deal.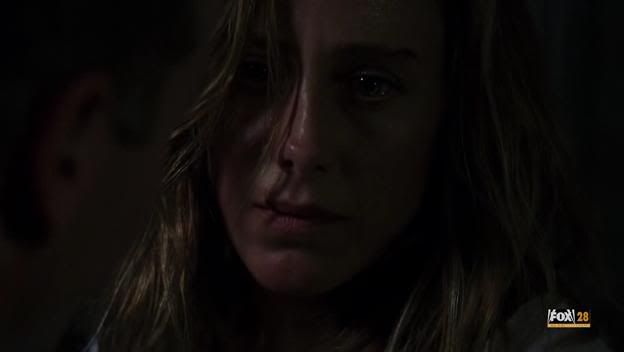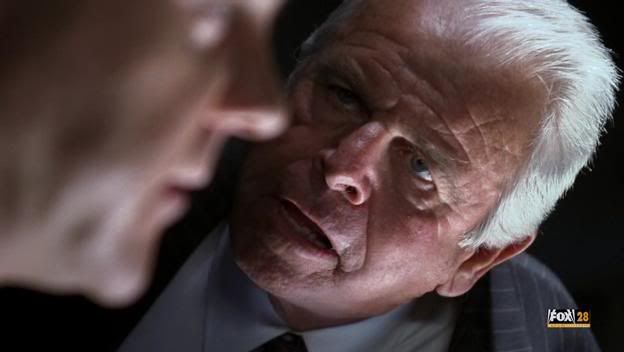 Episode 20: Back in his native building under arrest, Jack receives help from colleagues to break free and rescue Audrey from a clinical psychiatrist brought in to use potentially fatal drug treatments on her to force her out of her catatonic trauma and locate the Chinese. As Jack takes her to one of the basement rooms of the building, the few precious minutes they have are, as Audrey's father James Heller might put it the season before, 'burned into my memory'. She looks blank, he looks a mixture of calm and desperate as he seeks any kind of response from the ghost of Audrey. As Jack gives up, she reaches for his hand, and gives it a squeeze: a gesture that speaks a thousand words. She utters her final word in '24', the name of the copper plant where she had been held captive. Audrey's father, the formidable ex-secretary of defence, James Heller, one of the key figures of the previous season, and Jack's former boss, arrives to collect her. He demands to see Jack in the cells, an intense stand-off between the all-powerful and the powerless. Heller blames him for everything, labelling him 'cursed', adding that 'everything you touch ends up dead', before telling him that he will never see Audrey again. That scene has been striking enough to turn heads, [review one and two], and it has never left mine. 'Cursed' is a gunshot word.




Episode 24: Jack's instincts on the deal struck by the president and his agency with his rogue father to recover the component are well founded. His chase, teamed with disgraced (heroic) boss Bill Buchanan, sees him destroy an off-shore oil-platform, killing the Chinese operatives and his own father, and preventing Russian military response. Jack drops to the ocean from the helicopter and vanishes. Now it is time for his say. As the close of the season emerges, he appears at Heller's house, still foaming from the salt-water. For the first time, Jack stands up to Heller. "NO! You are going to listen to me! Earlier today, you said that I was cursed ... The only thing I did; the only thing I have EVER done, is what you and what people like you have asked of me." This is not the place for me to determine why this is such an excellent show despite those scorpions 'of wit corrupted' who would seek to tarnish it. Jack cracks a nerve in Heller's seemingly impenetrable armour: "You don't understand a thing about me. But I know you. I know why you're angry with me, and it wasn't because Audrey came to China to find me. It was because when you told her not to, she did it anyway!" But the honours remain even, for even in his defence, Heller makes Jack realise that Even when personal sanctity is redeemed, you cannot just reclaim your life and everything within it as it was before. Some sacrifices have to be realised.


One of my fondest recollections of the first Knightmare RPG shoot is being labelled Kiefer Sunderland. This sequences of events from '24' has revolved over and over in the mind, so chillingly close does it strike. I have kept using the word sacrifice, however misplaced, for this year. If there is to be experience through learning, it will pay me not to forget what has gone wrong. Especially given the economic climate, it is impossible to overlook the quality of the job I have had to give up. The repercussions of this are not yet though, I am fearful. My health has suffered; my sanity has wavered; my social skills have regressed (when I've spent long weekends talking to nobody but myself). Likely due to a combination of the previous, a dear relationship has suffered a breakdown. I move back home on January 31st, a move complicated by the prospect of my bedroom now being dedicated to our new prospective foster-child. Most of all, I've seen myself on the way to a dark place. During the summer, a Keith who, even rusty, outran a Blackpool tram along a 2 mile stretch of coast two years ago, struggled to drag himself home on an afternoon after more and more work was heaped onto the period that the rest of the department calls holiday. October sees me return from a medical trip to the UK to discover that my apartment had been broken into. It is one of the most bittersweet memories of the year; staying awake for the rest of the night to feel safe, and then coming straight back home, punching the air as I leapt from the Grand Central train that brought me home to Sunderland. I have grown happily accustomed to a private stoicism, much like my dad; one that has threatened to bomb on occasion, not least spending a night in tears earlier this month. I have not had a break since Blackpool 2006, and even that was not the easiest time, as I struggled to gather the finances together for the year ahead. This year has got harder and harder and harder, and all I have done, all I have continued to do is what my bosses have asked of me. The summer holidays were French, homework, marking, admin, research, and exam preparation, when I could not look after myself. These Christmas holidays have brought with them a conference paper to re-write (and deliver), proof-reading, a pile of student queries, the study-abroad scheme to profile, and a potential two essays to write for publication. Enough has been lost, and while January sees my end coincide with Kiefer S and Jack Bauer's re-emergence, it is time to realise that this kind of commitment where 'what needs to be done' takes all priority and precedence wreathes a tortured soul, and belongs in fiction.


Stuff of novels. I thought as much on February 11th. I had started the year knowing that friends would be important, but things started to drift quickly when I tried and failed to organise any kind of gathering around my birthday time. It was not an important occasion in any sense, but I had inquired with the premise that the opportunity for trips back to the UK may diminish as the year continues, and such occasions may become increasingly finite. In a bizarre stunt, which I had intended to quip as a final third, I put my embers of faith in springing surprise visits on two old and dear friends. The first, phenomenally, for all the rest of the year, was clearly meant to be. I had only the name of his work building and the office number, but with numbers circulating densely in and around the building, I was blessed to inflict the shock of his life in the entrance way. Had I arrived 60 seconds earlier or later, I would have had no chance. Never is there a more explosive personal reaction than when I encounter the awesome Ali Everett. I spent a happy hour with the good man, charging my emotional batteries every second. So nice it was too, now that I have mentioned the RPG, to be back in Manchester. Then followed a trip to London to spring a surprise on another dear friend who was certainly not expecting me. I do not feel, at the end of this year, anywhere near the 'epic' person I used to. Whether certain grim realities or priority changes have buried the inner 'romanticist' far away, whether it is a personality change in itself, or whether that kind of inner drive demands much more energy than I realised, and therefore is suffering from indifference while my health is dwindling, is all too difficult to say. Nevertheless, days like February 11th are the most fulfilling. February 14th saw the first trip to York since the camping trip, to catch up with an old charge from early NAGTY days; ironically enough, it was during the time of that trip that first communication with Samantha was established in the background. I remember this now: to sit down and reflect on the beautiful, winding details that blend and fuse together across past and present - it shows me why I named my primary icon 'life is a jigsaw'.


Given the frequent air-travel over this year, especially the period where I was effectively homeless, and commuting between Geneva and London each week, Europe seems very much smaller than it did before. I doubt that any future European holiday will ever feel like the same kind of escape again. With no flights to the North of England after April, I have seen myself fly into Edinburgh, Manchester, East Midlands, London Luton, London Heathrow, and London City, with 5 different airlines, until flights started again into Newcastle just two weeks ago. It has been a joy to use London City for the majority of air travel with Swiss and the wonderful Air France, and fantastic to pass through the new Terminal 5 at Heathrow in both directions. This coincided with the end of the summer of French, and a call-to-arms which did threaten to cause a collapse, were it not for the interception of a few fine friends. While my research of late has seen me differentiate privacy from relatively synonymic terms like secrecy, solitude and so forth, I have learnt that community and friendship are more separate than I had believed. Trust seems to have been lost from the former and granted to the latter. And Facebook shows the complications between friendship and community. Where is the distinction between quantity and quality when members have hundreds of friends? Faint acquaintances, distant classmates, can sit within closest friends and family, with abandon. This list would represent one's individual 'community', and indeed, the 'mutual friends' item shows smaller communities, but it cannot realistically be more than a set of individuals, 'friends'. Thus, the world's prime networking website may not satisfy or benefit either community or friendship. But then, as with the developing ideology of seventeenth-century privacy, this is a separate entity, which an individual chooses to use, and then how to use it. I am so proud to see nationalities within my list including Bulgarian, Russian, Romanian, Brazilian, Finnish, Spanish, Japanese, American, Canadian, and, of course, Swiss: some of these I can only communicate with in French. More importantly, it is important to me to maintain the credibility of this list, and ensure that friendship continues to mean something. The Hope symbol lives on.


Given the need to resign, and the pending end of the academic career I had worked so hard to initiate, I had plenty to prove in the final months of this year in Geneva. The one credit I will offer myself is that I rose to that challenge, won round an understandably doubting supervisor, and have grafted myself both a possible future, and an ounce of self-respect after capitulating in what is, undoubtedly, for someone, a dream role. The early part of the year saw the Andrew Marvell course, a double book review, and my first conference presentation. Having completed the 9 weeks of French at levels between B2 [Higher Intermediate] and C1 [Lower Advanced] on the 'Cadre Européen', I spent September creating my course on Literature of the English Civil War, and submitted the first 15,000 words of the PhD, which was well received. I have taken part in my supervisor's Masters course and the Doctoral workshop; spearheaded the department's poorly organised Study Abroad scheme, interviewing the majority of our second year students; applied successfully for a history conference at Cambridge, and prepared work-in-progress to present at our workshop. The feedback for the English Civil War course was just fantastic, and made all the thought and dedication that went into it highly worthwhile. The number of people who turned up for the final class on Friday at 8:00am (which included a screening of Family Guy, PTV) was a terrific compliment. Without a doubt, it was a treat at the end of the year to meet the Premier League of experts in my field at the John Milton symposium. Early next year will see an reunion with Profs. John Morrill and Blair Worden at Selwyn College, the kind of event I could only have dreamed of this time last year, and it symbolises something important for me. Given the easy route I could have had out of Geneva, these past few months (around the intermittent circumstances) have proved to myself that I want this as a future. I am not a natural academic: the shameful congratulation I offer myself for this battle shows this, but it has been my natural survival instinct to turn to this for solace, and to work towards whatever will keep me going in that direction. What next year may bring is unknown, but I hope I can rediscover some of the creativity, energy, and passion of old. The best of the past could really help to blend a sweeter sense of future.


Amidst the lather of work, I have seen some of the best features of December: snow-topped Swiss mountains, flights in crystal skies, the hospitality of the family (who have been a saving grace this year), contact again with both aforementioned friends and a precious catch up with the rock that is
malefact, time at home, and even the strange musing I always have around short walks in this part of the world, that there is no place like home. This year has been epic, no matter how much I try to play it down. Next year promises to be as potentially promising and healing as this year has been debilitating and destructive. There might be the potential for some rest, for a new member of the family, for a new move, to a new university and a new life. I'm ground down to the point where this all seems a little too good to be true right now. It's the best I can do to remain open-minded and pray to goodness that good luck, good health and good fortune spread around family and friends. I want to thank everyone that follows this journal, for providing a sense of audience that creates the (and my) raison d'etre, and for your support. As I began with the term paratext, I thank you for rich and plentiful comments throughout the year. I thank you for most this amazing day... for everything which is natural, which is infinite, which is Yes. Forever Love, Peace and Harmony, and a wonderful 2009.